Appearances are not always reality…

That's what twenty-year old Tori discovers when she moves in with her best friend, Liv for the summer. Liv's older brother Brady is everything Tori knows is wrong for her, yet he invokes emotions deep in her soul that she's never felt with anyone else. When the two eventually succumb to their feelings, Tori realizes Brady is not the same confident guy she's secretly loved for years. Tori desperately wants Brady to confide in her, but he refuses to talk about the secrets that have drastically changed his life.

Turning to the one person that always makes her laugh, she begins spending time with the younger brother, Tug. The two grow closer and Tori wonders if her feelings for Tug run deeper than the "just buddies" status they've always shared. As she begins to explore her feelings, the conflict between brothers, she'd hoped to avoid erupts. She has to choose.

When Brady finally reveals his secrets, Tori makes her decision; one that may leave them all Irreparably Broken.
Irreparably Broken
by
K.J. Bell
My rating:
5 of 5 stars
Wow, this book is a Must Read and was amazing with an 11 Stars!!
Irreparably Broken has a lot of angst, emotional family drama, hotness, humor, surprising twists, tear jerker, healing, did I say Hotness!!
The POV's are Tori and Brady. Tori is best friends with Brady's little sister Liv and Tug Tucker. They grew up together over the year and their moms were best friends. Tori has been in love with Brady for years but Brady broke her heart by showing how much of a cheater her ex-boyfriend Jake was. Little did they both know how much feelings they had for one another and didn't realize that were both doing each other a favor to not hurt each other. Brady had a family secret that only him and his 'parents' knew. He was protecting this secret to not only ruin his relationship with Tori but to also not hurt his brother and sister.
There is no cliffhanger but there is a 2nd book coming out soon which I can't wait for the continuation of the next story. I am definitely wanting to find out more about Tug's story and how the business is going and also Liv and Harrison.
Fave quotes from Tori to Tug:
"I'd rather have my nipples chewed by a pack of wild dogs than go out with you, Tug."
"I'd rather eat tootsies out of a litter box than go out with you, Tug."
"I'd rather pick lice off a monkey thank go out with you Tug."
Review posted on Goodreads and Amazon
Read June 17-18th 2013, Reread on July 1, 2014 to finish up next two books
View all my reviews
With their past behind them and a baby on the way, life for Brady and Tori is finally on track.
That is, until tragedy divides them. Unable to cope, Tori moves to Minnesota to be with her parents.
Heartbroken and alone, Brady throws himself into his music. His career takes off and Tori assumes Brady left her behind.
After a chance run in with Brady's brother, Tug, Tori makes a decision.
One that leads to Irreversible Damage.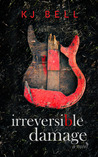 Irreversible Damage
by
K.J. Bell
My rating:
5 of 5 stars
I cried and cried and my heart was pounding through most of this book. I haven't had a series that has made me feel like this in a while. I am reading Tug now and it has even more angst. This book was definitely not for the faint of heart. Sometimes it takes a tragedy to reverse the irreversible damage of love to two broken hearts to heal. Please read this series! It is one amazing heart-wrenching story and so many unexpected turns that left me speechless. My hubs had to ask me if I was alright by the time I got to 30% of the book. I love this author! I will be promoting this book on my FB blog as well!
"No matter how much my heart begs me to stay, the irreversible damage between us will never allow it. It isn't because I'm not utterly in love with him still. I am. But despair is stronger than love. Loving him doesn't change the painful reality that exists each time I look into the depths of his soft green eyes."
View all my reviews
Aidan Hunter lost the only girl he ever loved to his older brother. To numb his pain, he drinks in excess, parties too hard, and sleeps with countless women. When his family expresses concern, he does what he's been taught to do—fake it and pretend his life is perfect. Pretend he loves his new girl and pretend his heart isn't broken.
Maria Santiago is simply trying to survive each day until she finishes college. As a single mother, life is a constant struggle. Add running from a dangerous past and working in the oldest profession, and all she has is hope for a better life. Hope one day she will no longer feel shame and hope her past never catches up with her.
After Aidan pays to spend one wild night with Maria, pretending to be unaffected by her is impossible. Their night comes to an explosive end and Maria hopes she never sees him again, but Aidan refuses to give up. As Maria begins to accept that Aidan's feelings for her are genuine, someone from her past threatens her life. Aidan's not intimidated and takes a huge risk to protect her.
Will the risk pay off and allow Aidan the opportunity to provide Maria with the better life she's been hoping for?
Tug
by
K.J. Bell
My rating:
5 of 5 stars
Holy Tugboat! What an ending! I feel like I just got "hustled"! I read the last few pages several times to calm myself down and cannot wait for Tug #2.
Tug will make you want to hump his leg, strip him down, beat his face in, swoon in an air balloon, then start all over again. Be prepared for more family drama with lots of relationship issues within all the couples and lots of unexpected twists that will pull at your heart strings. Addicted to this series and need more!
View all my reviews